The most Commonly used Overmoulding Materials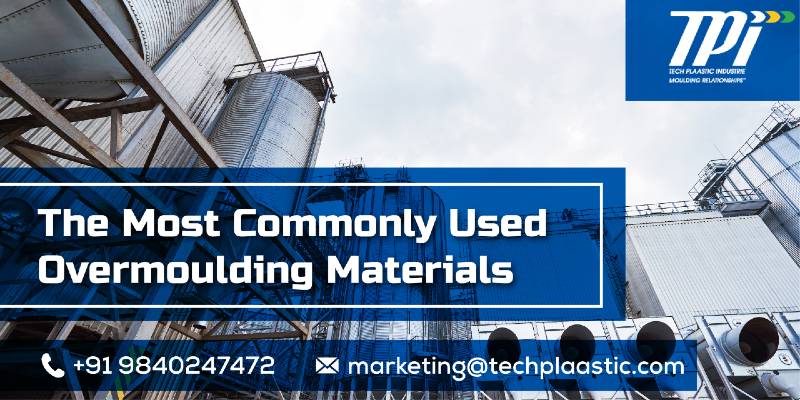 Overmoulding – What Is It? What Are The Different Types?
Overmoulding is one of the most versatile manufacturing processes used by almost every injection moulding company in India. It is used to create high-precision products free of defects. In this injection moulding process, multiple materials are seamlessly combined together to create a single product or part. The goal is to connect multiple plastic components into a uniform and durable product. Though the process seems to be a simple one, there are many underlying complexities that you need to evaluate closely to ensure that your overmoulding project meets all the required targets and expectations. In this blog, we take a closer look at the materials used in over moulding, their benefits and also the advantages of the process.
There are two types of overmoulding:
Insert moulding
In insert moulding, a pre-injection product is placed into the machine, and then the TPE (thermoplastic elastomer or thermoplastic pellets) is fed into the machine. Then it is moulded on top of the pre-existing mould. It is mainly used to add metal features to parts made of plastic. In simple words, it is the technique used to coat any preformed object with plastic by using the injection moulding technique.
Multiple-shot moulding
In multiple-shot moulding, the injection moulding machine has more than one barrel, enabling two materials( can be the same or different) to be injected in a single cycle for the same mould. Multiple-shot moulding can be used to create plastic parts from various materials such as silicone rubber and polypropylene. It is done during a single moulding process itself so that the external characteristics like impact resistance is improved.
A Quick-Look Into The Materials Used For Overmoulding
Material compatibility is one of the most vital aspects of overmoulding. If the materials are not thermally and chemically compatible, the product may exhibit poor performance standards or might end up looking deformed. Usually, a combination of materials is used to create various parts of the finished product. So, what are the most common materials to be used? Let us take a look!
HDPE (High-Density Polyethylene)
Out of all the plastics used in the industry, HDPE is the most popular and the most versatile material. It is a great choice for large parts that need excellent physical performance. It can be used for plastic lumber, corrosion-resistant pipes and various other products. Its benefits are:
Lightweight but strong
Weather-resistant, impact-resistant
Easy to mould into any shape
A great replacement for heavy materials
High sustainability value
ABS ( Acrylonitrile Butadiene Styrene)
ABS is one of the most preferred choices in automotive parts and consumer electronic applications. Specific requirements needed for the overmoulding processes of these applications and parts can be easily met with ABS. Here are the benefits:
Low-melting point
Low electricity and heat conductivity
Easy to recycle
Smooth, glossy finish
Absorbs colour easily
Compatible with a variety of paints and glues.
Highly resistant to physical impacts and chemical erosion
Easy to mould
High tensile strength
PMMA (Polymethyl Methacrylate Acrylic)
PMMA is an easily affordable choice and can be used for all applications that need high light transmissibility, weatherability and optical transmissibility. It is also called acrylic glass as it is a shatter-resistant and lightweight alternative to glass. The benefits are:
Resistant to weathering and UV radiations
Offers great clarity and high refractive index
High light-transmissibility ( upto 95% white light transmittance)
Hard scratch resistant surface
Dyes can be easily added to get any colour of your choice
High chemical resistance
The Noteworthy Advantages Of Overmoulding
When it comes to creating new products, the merits of overmoulding are unlimited. Businesses from various industries can benefit from it. Let's unpack some of them.
It allows for design variations. Overmoulding utilises different plastic materials. Hence, the shape, size and design of each plastic component can be changed as per requirement.
It allows for more component reliability. Because two plastics are used in combination, the product base has greater strength and a robust structure.
It doesn't require adhesives or bonds. Overmoulding uses compatible materials, advanced tools and injection machines. This helps in creating products with tight tolerances that do not need any extra bonding.
It enables mass production. Overmoulding can be used to manufacture multiple parts. With custom plastic overmoulding, you can easily mass-produce components made of 2 or more materials.
It is more pocket friendly. The cost of labour, operations, assembly and inspection is much less in overmoulding. Furthermore, each component maintains its integrity, whether it is during testing, inspection or application. This further reduces the cost.
To sum up:
As an experienced injection moulding company in India, we know that overmoulding is a potent tool for designing products. That said, designing requires meticulous attention and proper care. At TPI, we are equipped with a whole team of experienced professionals. Our team of experts ensure that from design to manufacture; the entire overmoulding process is carried out to meet your needs in the best possible way. So, if you're looking for high-value products with lesser long-term costs, get in touch. We'd be happy to go over our injection moulding process with you.
---
---
---